ClipMenu 1.0.0a1 released
Today, the first alpha version of new ClipMenu was released.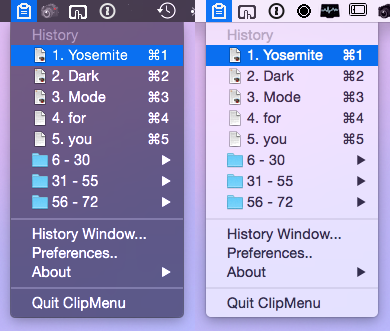 Note: ClipMenu 1.0.0a1 is still in alpha stage, so use it carefully and at you own risk for testing only.
What's new?
Completely rewritten
Better performance
Unlimited amount
History Window
Popover preview
Yosemite ready
Completely rewritten
New ClipMenu has been rewritten from scratch in Apple's new Swift language. No more using old deprecated APIs.
Better performance
ClipMenu 0.4.x had stored data in memory, but new ClipMenu stores data on disk and fetch them on demand. This makes it requires less memory than before.
Unlimited amount
New ClipMenu uses Core Data for persisting data, you can handle large number of history items if you want.
History Window
You can look, search and remove history items in single window. By selecting items and pushing 'Touch' button, you can update their last used date and move the to top in the menu.
Popover preview
New popover preview can show not only plain texts but also rich texts and images. You can set its delay time to popover and whether it animates from the preferences window.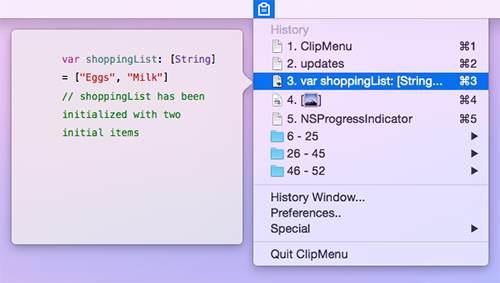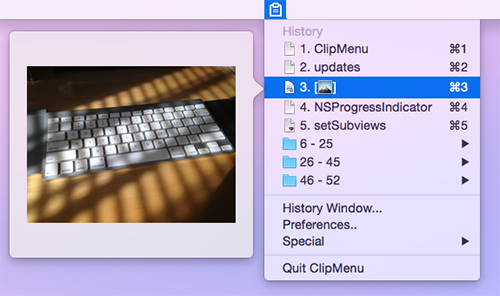 Yosemite ready
New ClipMenu is 100% Yosemite ready. It supports Yosemite's Dark Mode.
Download
System Requirement:
Mac OS X 10.9 (Mavericks) or Mac OS X 10.10 (Yosemite)
How to Install:
Copy 'ClipMenu.app' to /Applications or ~/Applications folder.
How to Uninstall:
Quit ClipMenu
Remove a preference file and an application support folder below:

~/Library/Preferences/com.clipmenu.ClipMenu.plist
~/Library/Application Support/com.clipmenu.ClipMenu

Remove ClipMenu.app
Feedback
Any help for debugging and improving is appreciated.